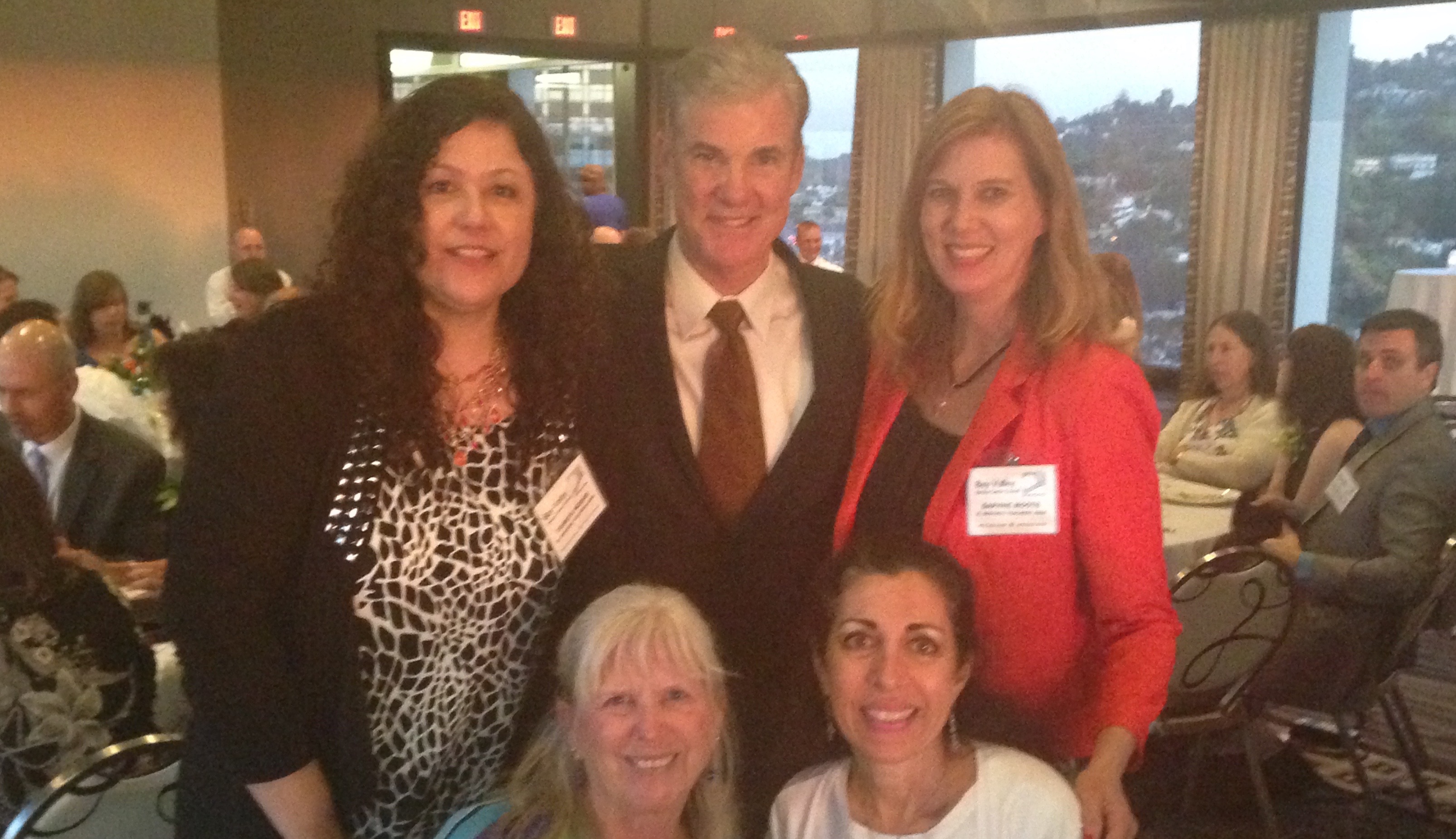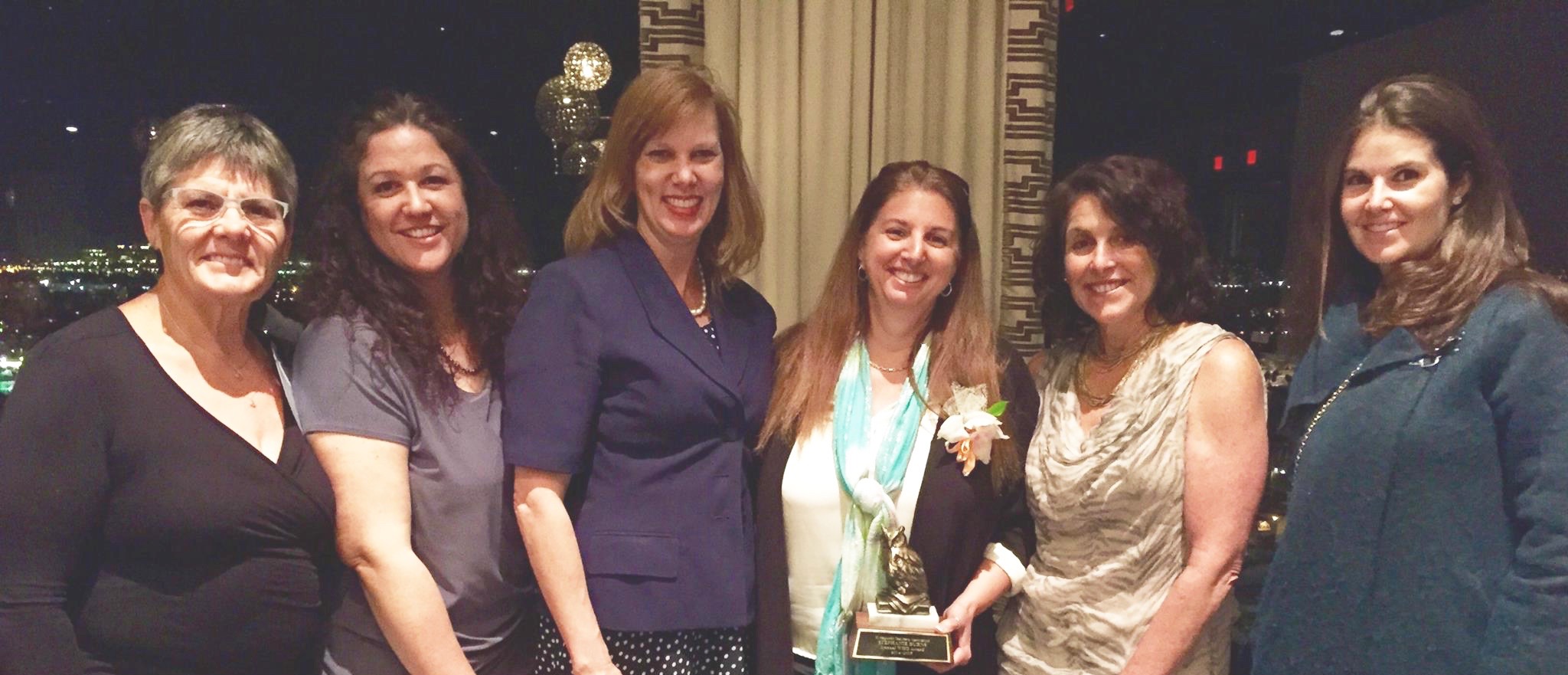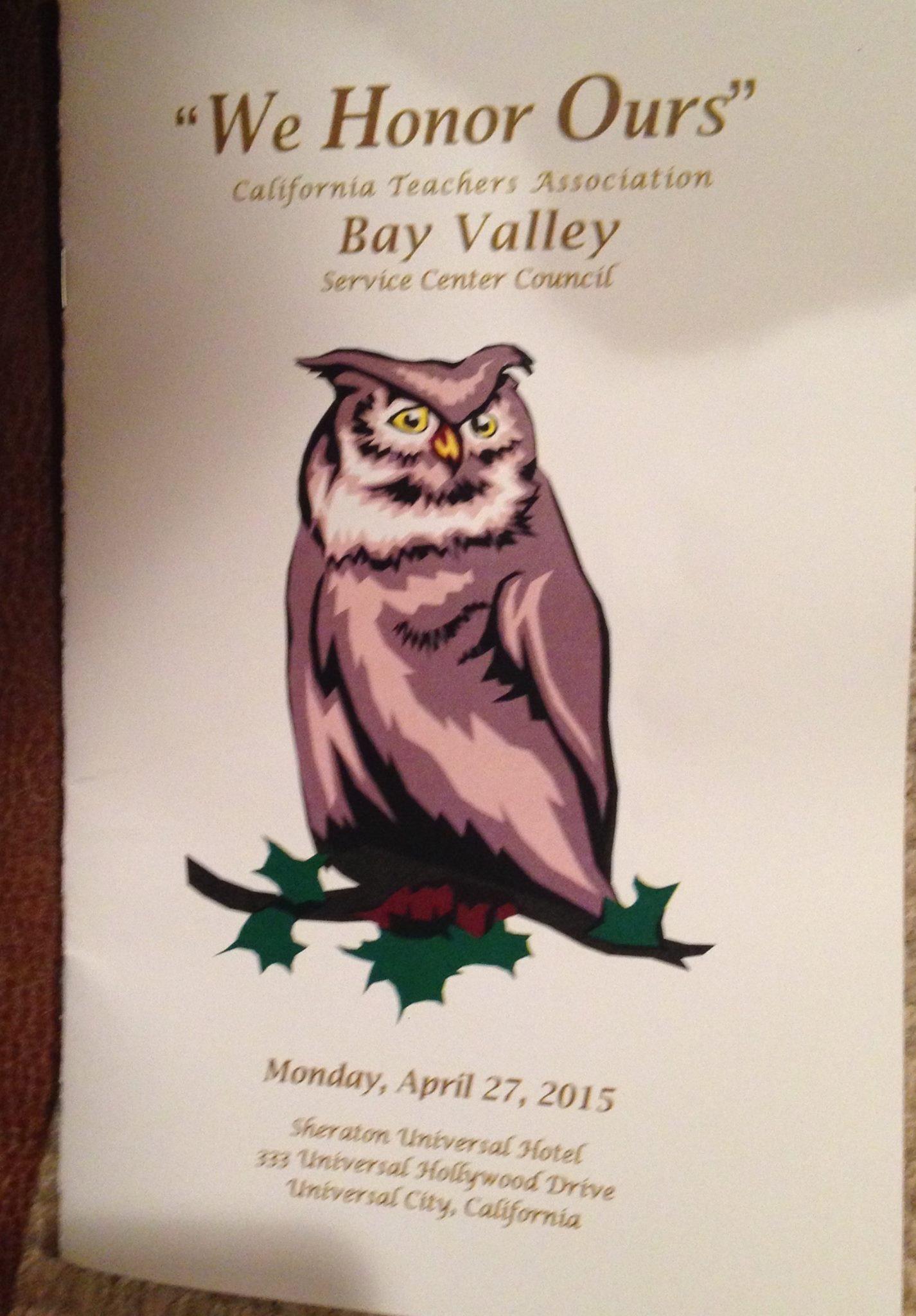 WHO AWARDS BANQUETS
WE HONOR OURS
El Segundo Teacher's Association
Who Awards
Hall of Fame:
STATE WHO AWARD HONOREES:
2016-2017 Daphne Moote
LOCAL WHO AWARD HONOREES:
2016-2017 Al Luna
2015-2016 - Amanda Igi
2014-2015 - Stephanie Burns
2013-2014 - Marinna Tuscherer
2012-2013- Tahnya Nodar
2011-2012- Donna Scaltrito
2010-2011- Bonnie Maye
2009-2010- Betty Sleeth
2008-2009 - Meredith Beachly
2007-2008 - Daphne Moote
2006-2007 - Craig Cousins
2005-2006 - Dorene Morgan
2004-2005 - Paulette Caudill
2004-2005 - Karen King
1994-1995 - Darlene Morrison
1993-1994 - Ron Braunstein
1992-1993 - Mary Haag
1991-1992 - Joe Van Pelt
1990-1991 - Terry Crystal
1983-1984 - Betty Dake
1983-1984 - Allen Hamblin

The annual Bay Valley Service Center WHO (We Honor Ours) Awards banquet event is an evening where we honor and give recognition at the local and state level. The Local WHO Award is given to honor members who have a long history of distinguished service to the local association.
Congratulations to all our El Segundo Teacher's Association Recipients.
STEPHANIE BURNS, WHO Award Recipient, 2015
ESTA serves a community with a true small-town atmosphere. As a long-time resident of El Segundo, Stephanie provides a necessary local point of view on the ESTA board. Her social connections are valuable since she knows parents and administrators outside of the school walls. This allows her to help communicate Association points of views and values to the community while at church or in the grocery store. As a counselor at the high school, parents, community members and (most importantly) Association members trust her and so they are willing to listen to her when she discusses Association business. Her experience as a counselor has also helped at the bargaining table because she is seen by both sides as bringing a level-headed and fair point of view.
The trust and respect Stephanie Burns has built in her many years of service as a counselor at El Segundo High and her presence in front of any group of people allow her to communicate efficiently with Association members and then effectively represent them at the bargaining table. We are fortunate to have such a capable Bargaining Chair.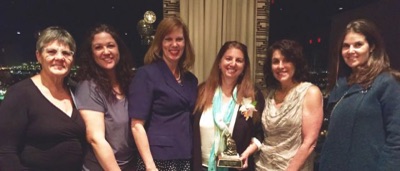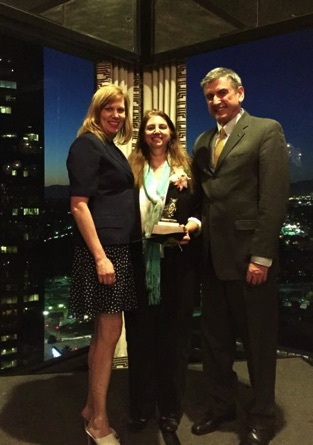 Tahnya Nodar,
2013 WHO AWARD RECIPIENT
Tahnya Nodar meets every challenge head on. Since her career began,she has dedicated countless hours to her classroom and the ESTA. Tahnya's career as a union member began as building rep and now includes V.P., Organizing Chair, and lobbying in Washington, D.C. for the Jobs Act. This year she served as a CTA "RTM", passionately dedicated to rallying the troops to support Prop. 30 and defeat Prop. 32. Tahnya's caring nature was evident as she surprised the bargaining team, sequestered in a windowless room during impasse, with homemade goodies.
At school, Tahnya's laughter can be heard echoing in the hallways. She is the consummate organizer, dependable volunteer, and passionate teacher. Her attention to detail is unmatched. Presently, Tahnya is head of the disaster team at Richmond Elementary School. For Tahnya, sharing new and innovative ideas to help her students achieve is a never- ending process. It is fitting that her tireless efforts be recognized.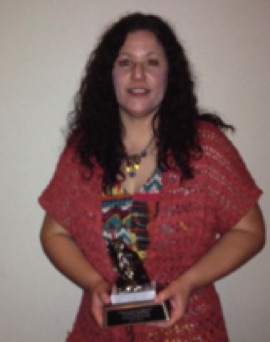 DONNA SCALTRITO,
2012 WHO AWARD RECIPIENT
Donna Scaltrito has great spirit and dedication to the work and importance of unions, not only for our local association, but to the work of CTA and NEA. As a building representative for almost a decade we can always count on her enthusiasm as she shares passionately with colleagues issues that help protect public education. We all feel the demands of increased work-loads and the challenges of juggling multiple responsibilities. Donna is no exception. However as a single parent, and dedicated teacher, whenever asked to help she not only takes care of the task, she does so with a smile and without a moment's hesitation. As a member of our health benefits committee she has gone above and beyond to be there for members and help address issues. It is with great pleasure we honor our own, Donna Scaltrito. Congratulations Donna! Thank you, Donna for your positive attitude and care, inside and outside the classroom.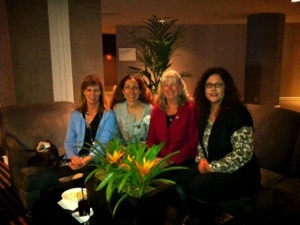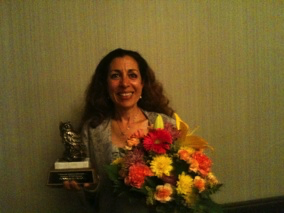 BONNIE MAYE,
2011 WHO AWARD RECIPIENT
Bonnie Maye is an amazing teacher, union member and friend. She is willing to serve wherever there is a need and gives 110 percent to everything that she does. She works hard for her students, her colleagues, her administration, her family, her friends and herself.
Bonnie started her tenure in El Segundo fifteen years ago as an aide in Kindergarten. Since then she has taught PE, ESL, computers and garage band. Bonnie is in charge of publishing the yearbook and is the go to person for Powerschool while she also maintains the Middles School school calendar and website. She currently serves as the El Segundo Teachers Association Treasurer and Bargaining Chair. Bonnie also serves as the chair of Bay Valley Service Center's coordinated bargaining committee.
Congratulations Bonnie and thank you for your service!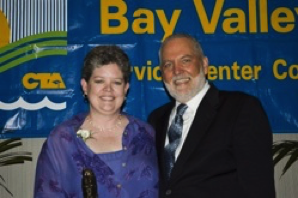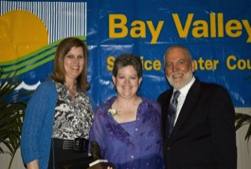 BETTY SLEETH,
2010 WHO AWARD RECIPIENT
Consummate professional. These two words describe Betty Sleeth. In 1993 when she agreed to accept the Membership chair of our El Segundo Teachers' Association, teachers in our district had no idea that Bay Valley Service Center even existed. After attending the membership training Betty spent countless hours of her time and almost single handedly created the necessary legal documents, etc. to help us transition from a non-agency-fee association to one with it. During her 14 years as Membership chair Betty has educated our entire district of teachers as to all that is available to us through our connection to Bay Valley Service Center, CTA, and NEA. As a Richmond St. School teacher, she has been our go-to leader serving her fellow teachers in numerous ways: as our teacher representative at ESUSD's '07 21st Century Education Summit connecting major businesses, local & state political leaders, and other community leaders; as a Student Teacher mentor; as a Strategic Planning Committee member; as a participate & trainer of US history at Williamsburg, Virginia; and as a precinct walker supporting school bonds and pro-educational measures, to name just a few. Tonight we honor her continuing dedicated service.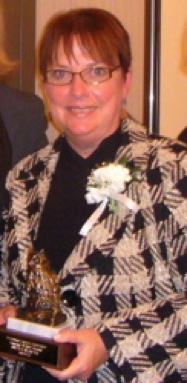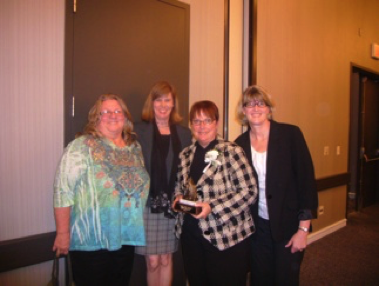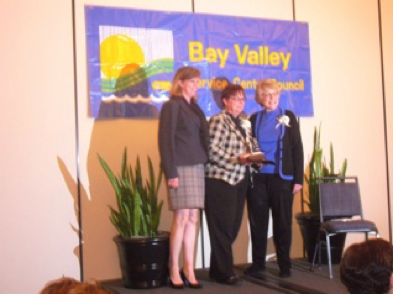 Meredith Beachly,
2009 WHO Award Recipient
Take a highly efficient educator, with ten years of dedicated service in El Segundo, add a spirited supporter of teachers and students rights and you'll have the professional Meredith Beachly. The one that passionately serves as association building representative, coordinates the programs, Outdoor Science School and Astrocamp, while having served numerous times as a delegate to the Representative assembly.
Then there is Meredith Beachly, the person. A cool, loyal, outspoken, and caring lady, who really knows how to lighten things up. All of us who know her, want you to know her too; and that's why the El Segundo School District is pleased to introduce and congratulate, Meredith Beachly.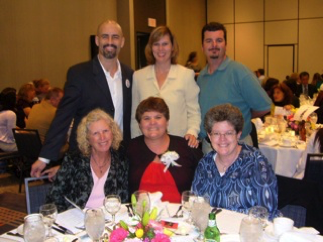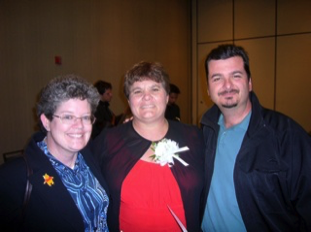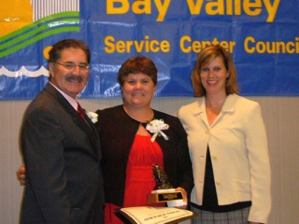 Daphne Moote,
2008 WHO Award Recipient
Not only is Daphne an excellent National Board Certified Kindergarten teacher; she has been very active in our local association, El Segundo Teachers' Association. She has done all the jobs from Building Representative to Webmaster and Newsletter Editor. Daphne has worked to make a difference for the teachers of El Segundo by serving on the negotiation team for nearly ten years and as president for the last six years. She is very active in the community in order to cement a positive relationship between the schools and the community. The most significant activity was her helping to pass school bond measures that modernized all our district schools. Daphne has demonstrated constant, steady leadership as she navigates through these difficult times of budget crisis and electronic changes. We are blessed to have such a dedicated individual and now we wish to honor our own, Daphne Moote.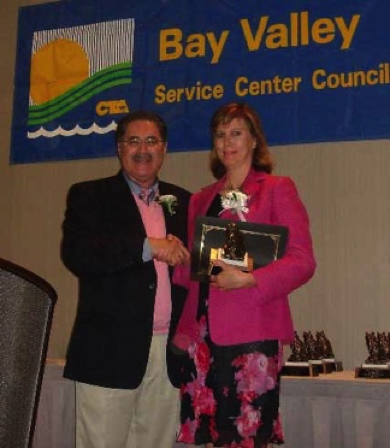 Since 1982, Craig Cousins has served the El Segundo Unified School District and Teachers Association with a quick wit and sharp intellect. He has been a member of our negotiation team for over 15 years, and served as bargaining chair, building rep, and Vice President of our association. His sense of moral obligation to our society, and our profession is evident by his dedicated years of service. His innovative solutions at the negotiation table are respected by teachers and administration alike. For that, we owe him a debt of gratitude. With Craig, what you see is what you get. He is straightforward and definitive in his work with the bargaining team. An intellectual and philosopher, who thinks deeply and wisely, Craig has a strong voice in decision making. The teachers of El Segundo are proud to honor Craig Cousins.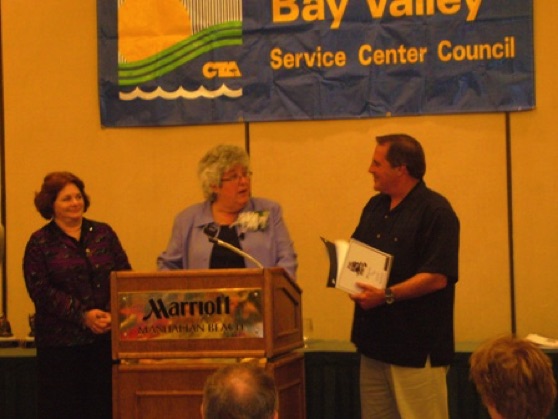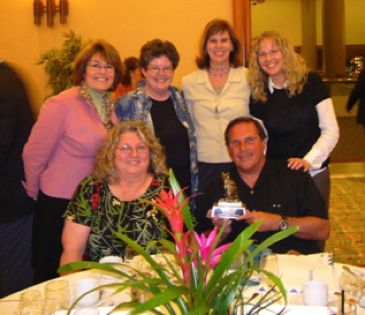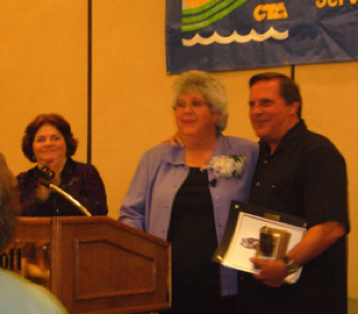 Congratulations Dorene!
WHO Award Recipient, May, 2007
This year marks Dorene Morgan's fifteenth year of dedication to both our Teacher's Association, and to our district. Dorene is passionate in everything she does. She spends numerous hours creating a very special and inviting environment in her TEDDE class. (The first of a two-year Kindergarten program) It is clear that her students do not forget the great start they receive, for she gets many visits from former High School students who remember, and adore their first teacher. With all the time and energy she puts into her classroom, it is hard to imagine she has time to give more. She is equally dedicated to fighting for the rights of teachers and for public education. El Segundo Teacher's Association thanks her for her many years of service as a building representative, Treasurer, negotiations representative, and RA local representative. Dorene is an extremely thoughtful and caring person who is respected and admired by everyone who has worked with her. We are very fortunate to have such a positive and caring teacher in our association!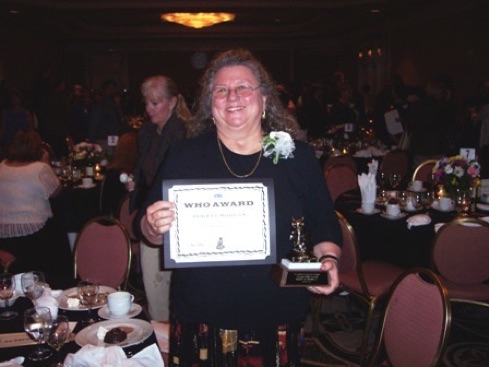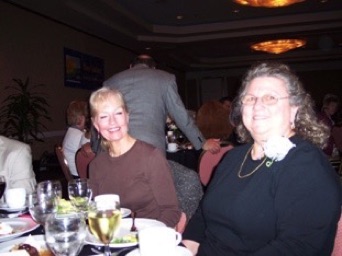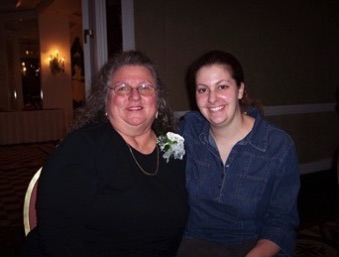 Congratulations Paulette!
WHO Award recipient, May 10, 2006
"Paulette continued to see that our members stay abreast of offerings by CTA and NEA in items of conferences and mailings. Under her presidency we started a monthly newsletter to members to keep in touch with whatever is happening within our district, our state (CTA), and our nation (NEA) she held weekly meetings with our superintendent and the head of Human Resources to support our teachers. She has served on our negotiation team since 1995. The members of ESTA are very appreciative of the many hours of service Paulette spent on our issues. "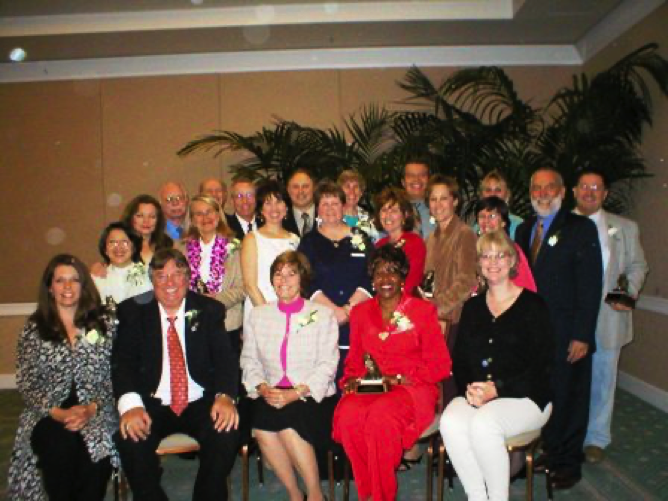 SERVICE CENTER COUNCIL
STATE WHO AWARD RECIPIENT
Daphne Moote
EL SEGUNDO TEACHERS ASSOCIATION
2016-2017
Daphne Moote has been teaching for 30 years, all of them in Kindergarten! Daphne's initial immersion into union work was very typical. She was "gently" coerced into being a site representative, and then she caught the union bug. Twelve years later she became President of El Segundo Teachers Association and served her heart out as President for another 15 years. In addition to being President, she was on the Bargaining Committee, PTA Council Teacher Rep, Organizing Committee, Political Action Committee, Health Benefits Committee, and Service Center Council Rep. On behalf of CTA she has journeyed five times to Sacramento to lobby legislators. In addition, she has been the Editor of the ESTA's Newsletter for the past 20 years.
Some years into her Presidency, she began to serve on the Bay Valley Service Center Council. A year later she was on Steering committee, and then, if she did not have enough on her plate, became the Elections Chair for Bay Valley and has been doing this for the past 7 years. Daphne was also a CTA Legislative Contact person for a state senator.
Daphne is the epitome of a union leader committed to preserving the integrity and honor of the teaching profession. She is well regarded in the El segundo Community, respected within the School District, loved by the Teachers, and revered by the Bay Valley Service Center Council. She has been a pillar, and we are so honored to celebrate her amazing years of service to the California Teachers Association.
Amanda Igi, WHO Award Recipient, 2016
The El Segundo Teachers Association honors this year a very special member, Amanda Igi. Early in her teaching career, Richmond Street School was going through some rough times. A bit disgruntled and disillusioned, Amanda approached an ESTA Site Representative with her complaints and was ready to quit teaching at the school. This Site Rep challenged her by asking her instead, to be part of the solution and to stick it out a little longer. Amanda not only rose up to the challenge, but has now been an active leader in ESTA for 6 years.
She started as a Site Rep at Richmond during the difficult years of intense budget cuts and layoff notices. Amanda sat in numerous meetings with the many teachers receiving those dreaded pink slips. At the same time she was a voice for our teachers to the administrators in regards to working conditions. After serving as Site Rep for 4 years, Amanda became a member of ESTA's Bargaining Team. Amanda is the calm, clear and concise voice of reason and honesty amidst any storm. She is critical to the ESTA Bargaining Team. She leads by example. She uses few words, which makes a powerful impact and leads to positive changes for our members. She has, also, been a teacher liaison for several years to the El Segundo Education Foundation. In this position she has provided vital link between El Segundo teachers and the El Segundo community. She is pithy, sweet, fair and compassionate. She cares deeply for her students and is a beloved and respected teacher. El Segundo Teachers are proud to honor her.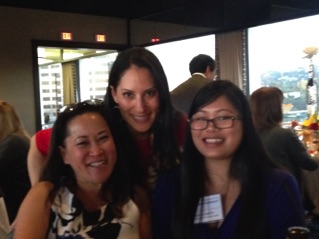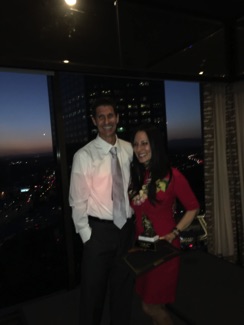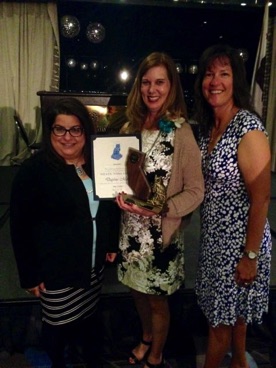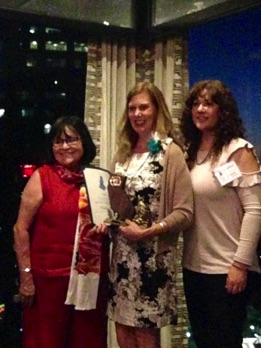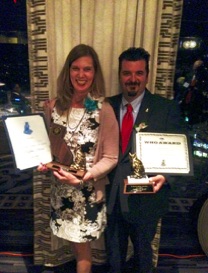 Al Luna,
Local WHO Award Recipient,2017
El Segundo Teachers Association has chosen Jedi Master Al Luna as our 2017 WHO award recipient. Al has spent the past eleven years training young Jedi to master the intricacies of U.S. History and life with lessons like "Your eyes can deceive you, don't trust them", and "Do or do not, there is no try".
Mr. Luna has also faithfully served our local since joining our galaxy. Self-discipline, knowledge, and the force are definitely strong with this one. His official duties have included building representative, secretary, vice president, and he has decided to run for president! This Jedi is not afraid to confront the dark side when necessary. Al has stood bravely in the face of adversity during our darkest times and has allowed the force to guide him and us through some of our greatest triumphs as well. It is with great pride and admiration that we bestow this honor on our colleague Al Luna. Congratulations Al and "may the force be with you, always."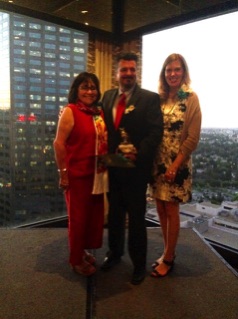 El Segundo Teachers Association 2017 Who Award Honorees:
Daphne Moote and Al Luna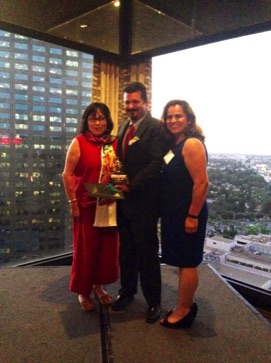 Craig Cousins,
WHO Award Recipient